Welcome to Circuit de la Sarthe — a high-octane battleground where the world's elite endurance drivers fight tooth and nail for a shot at winning one of the world's most brutalising performance races.
The word tough gets used a lot during the 24 Hours of Le Mans. A word that simply doesn't do it justice. The Circuit de la Sarthe is notoriously one of the world's fastest and ruthless tracks, which can propel V6 engines to speeds upwards of 200mph. It's up to the drivers, engineers and strategists to get their 1000bhp MVP around the 13-kilometre track as many times as possible. Really, it's far from being just tough.
It's an ideal proving ground, where the world's largest car manufacturers fight tooth-and-nail, through day and night, to prove their tactics, their tech and their place in the industry.
There are too many moving parts to mention — over 11,000 tyres are shipped in for 180 drivers, for example — but one of the most persistent stories is that of the drivers' seemingly endless levels of endurance.
Fans come and go, but the race never decelerates
Even through four tiers of racing machines — LMP1, LMP2, LM GTE Pro and LM GTE AM — there is a common denominator of constant exhaustion between a team's staff, crew and drivers. There's no break, either: the 24-hour race is just as brutalising in the 18th, 19th, and 20th hours, as night gets darkest, as it was at the beginning. Fans come and go, but the race never decelerates.
Marginal Gains
As with any sport blessed with an eye-watering budget, the room for 'marginal gains' has become significant in automotive endurance racing. In 2019's Le Mans, it's more crucial than ever.
In many ways, the drivers behind the wheel are the true machines of endurance. The team cars can be modified, tyres can be changed and brake systems replaced, but when a driver is three 'shifts' deep — each lasts from 90 minutes to three hours — fighting exhaustion and dehydration, there remains scant chance for sleep. This makes rigid training, efficient nutrition and mental wellbeing the best tools for survival at Le Mans.
Ford Motor Racing, in particular, has invested heavily in the well-being of its endurance drivers. With four Ford cars in Le Mans' LM GTE Pro grouping, a category with (slightly) slower race cars designed around production vehicles, Ford's drivers are surrounded by know-how, from high-spec trainers, physiotherapists, dieticians and race strategists. Every lap counts, so it pays to invest in the small things.
"The type of training that a race driver needs to do needs to reflect the type of car they're driving and the racing they're doing. For example, a Formula 1 driver will train differently to an endurance driver," explains Ford Performance trainer John Camilleri.
"You have to make a compromise on a seat position to accommodate the three drivers. The muscle bias is more towards core, hip flexors, lower body and lower back as well. There's less downforce on the neck and shoulders in these cars, so while we still do shoulder stability and neck-strengthening exercises, it's not the same physical demand as a single-seated car would be."
This isn't the only crucial difference between Le Mans and the likes of Formula 1 or rally driving. Perhaps it's a little obvious, but the time-span of the race is the most unforgiving aspect of it all, demanding laser focus, impressive levels of strength and heightened cardiovascular endurance.
Much like an elite runner, every metric from the driver — including heart rate, breathing aptitude and core body temperature — is painstakingly analysed after a stint in the car and is just as important as the reps grinded out in the gym. It all counts out on the track, and it's Camilleri's job to get them in the most efficient and capable condition.
Training for Endurance
"Fundamentally, they have to be pretty good all-rounders. They have to have good functional strength, they need to have good cardiovascular endurance as well: these guys will stay in the car for two to three hours at a time," he explains. "We monitor their physical output behind the wheel — so we have a good understanding of what their average heart rate is in the car, what their breathing rate is like, their breathing aptitude, core body temperature and the G-forces on the driver."
It's an all-year commitment, too. To get the most out of the drivers, Ford Performance's team of trainers, physiotherapists and osteopaths work tirelessly to get the drivers physically prepared, while managing their fitness and nutrition with unwavering attention. "At the start of the year, we'll go through quite a comprehensive fitness testing protocol, identify areas where drivers are strong and where they need to improve. We'll run individual training programmes, which are periodised according to where they are in a season and take into account a lot of different things including travel, jet-lag and other factors," says Camilleri.
"The service we provide works on two levels. We have the stuff behind the scenes — fitness testing, training, sports therapy, managing their nutrition — then, here at the race track, we warm them up before getting in the car. Then recovery strategies after each stint like managing their sleep — we get the drivers away from the garage environment and into somewhere quiet, where they can sleep and start again."
Lasting the Distance
One of the team drivers who benefits from Camilleri's approach is 37-year-old Ryan Briscoe, who bagged Ford GT's first win at Laguna Seca in 2016. No stranger to endurance racing, Briscoe has eight IndyCar wins under his belt, alongside wins in both the Rolex 24 at Daytona and the 12 Hours of Sebring. This year, Briscoe — along with his team mates Richard Westbrook (UK) and Scott Dixon (NZ) — went on to secure a sixth-place finish in the LM GTE Pro category at Le Mans, with a hefty 341 laps completed when the clock hit the 24-hour mark.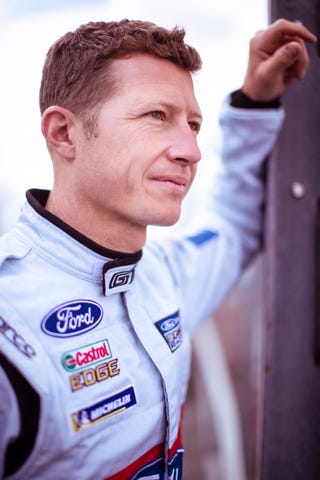 His car, of course, is fine-tuned to last the distance. The front section of Briscoe's Ford GT can be replaced in 15 seconds and the entire braking system can be re-calibrated in 20, but it takes far longer for him to become mentally and physically prepared for the race. But, when he does, little can distract him. "I think it pays off in the races to be relaxed and you get the most out of the car. You're thinking about everything that's going on, thinking about where the tyres are going and where the balance is. We're always pushing to the limit, but you don't want to overdrive it," Briscoe explains.
During the race, it's not unusual for drivers to have lost upwards of 10lbs in weight
"The key is the preparation, we got a good night's sleep last night. You go to sleep knowing that you won't sleep much the next night. You stay hydrated today. When you get out of the race car, you drink a lot of water, you eat right, you rest and get away from the garage, just so you can relax your brain a little bit when you're not in the car." During the race, it's not unusual for drivers to have lost upwards of 10lbs in weight.
The physical prehab and rehab doesn't end there, though. Before the race, explains Camilleri, some drivers will "go out for a light jog… a really steady jog to spin the legs. Other drivers leave it closer to when they're due to get in the car, with skipping and maybe some boxing with the pads."
Afterwards, things are different. "After each stint, once they've been in the car for two to three hours, it's sports therapy," he says. "We've monitored their physical output behind the wheel and got that feedback as soon as they're out the car. That will shape what they do before they have to get in the car next.
"All of those things help you. When you get back in the car, you're fresh, you're focused and can give 100% for the next two or three hours," finishes Briscoe, now just hours before the race is due to start.
At this point, it was anyone's guess how the next 24 hours would pan out. One thing was certain, however — only the toughest machines would survive at Le Mans.
https://www.menshealth.com/uk/adventure/a28102297/ford-le-mans/